AQUAPARK NESSEBAR.

THE PARK WITH THE GREATEST VARIETY OF WATER ATTRACTIONS IN EUROPE
meters of total
slide length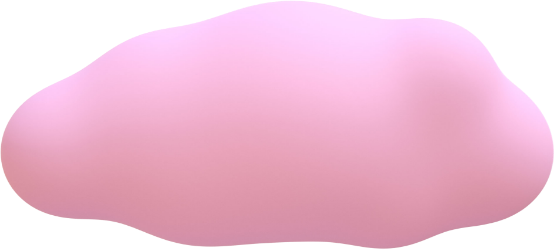 This is Aquapark Nessebar. Where every step is fun.
Each millimeter here has been designed and constructed in accordance with the highest standards for safety, with thought and attention to the minutest detail, in order to inspire you to embark on an unforgettable vortex of emotions: from adrenaline rush to complete relaxation.
Here, amongst beautiful oases of natural greenery, you will find incredible diversity of slides, pools, rivers and endless opportunities. You can relax completely, retreat in a gazebo, enjoy delicious food or drink, or become a part of a memorable event and have the time of your life each and every second of your visit.
Come with children, with friends, alone, or with your partner and meet the challenges of Aquapark Nessebar on the way to ultimate pleasure! Here you will enjoy the greatest diversity of water slides, pools, rivers, and springboards in Europe, and you are guaranteed to find a million reasons to fly, fall, dive, submerge, resurface and again embark on the amazing adventure called Aquapark Nessebar!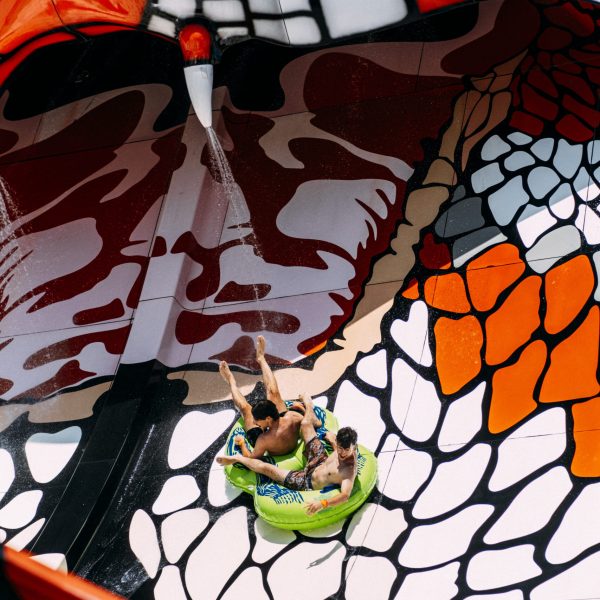 Amazing! Revolutionary! Magnificent! These are but a portion of the definitions that you will hear about His Majesty King Cobra but in reality there are no words that can truly describe him. Suffice it to say that he will give you the ride of your life. And you will adore him.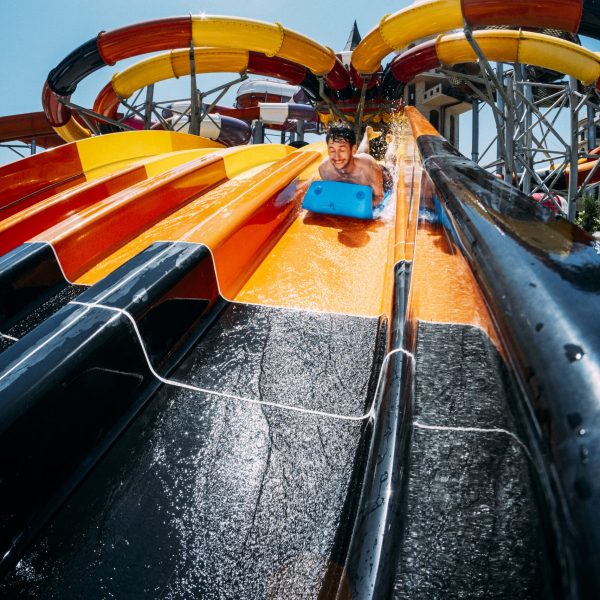 At this super speed racing track the victory comes before the start. Because if you dare to go head first, you have conquered every fear. You start at a frantic speed outdoors, you shoot through a tunnel and reach… beyond anything words can describe.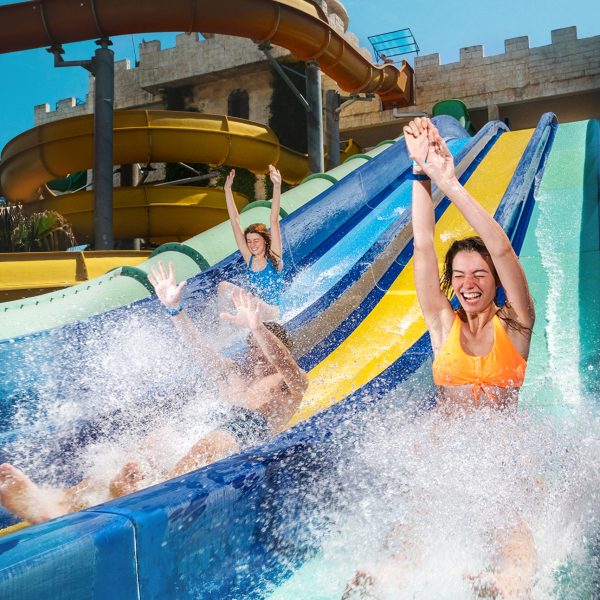 The shortest of the 3 race tracks in Aquapark Nessebar is a wonderful start for families and friends who are yet to muster their courage for more intense experiences or who just prefer something a little less extreme. But do not think it will be too easy! The slope is big enough to make your heart leap 😉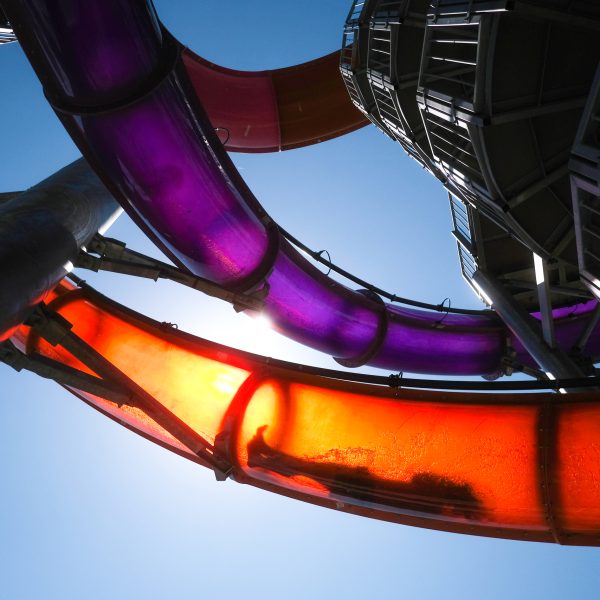 There are two of them. They are unique for Bulgaria. They are stunning. At the beginning you only hear your heartbeat in the closed cabin. 3, 2, 1 … the hatchet opens abruptly and you start dropping down a tunnel of light with crazy curves at frantic speed, and at the end all you can say is: WOW!!!!!
We know that with so many wonders to experience and attractions to try out, energy is your most precious resource! That is why in Aquapark Nessebar you will find many magic nooks and crannies, where you can recharge. The food court offers an enormous variety of delicious meals, and as of the drinks: we have a total of 5 bars, each one with a unique idea and concept. The most outstanding of them is the famous Pool Bar, located in our largest and most beautiful pool, shaped as a butterfly.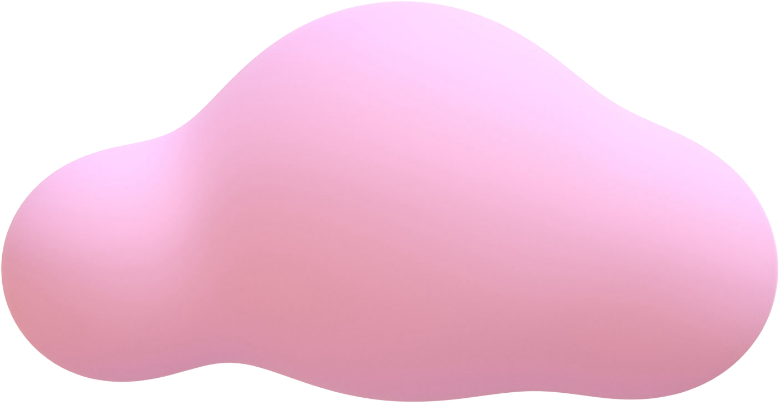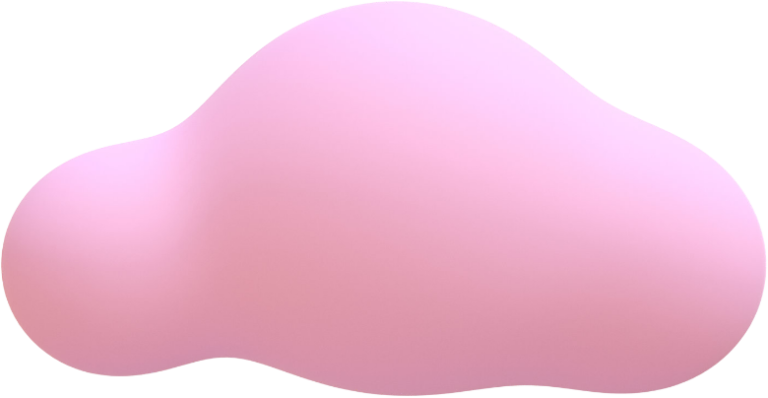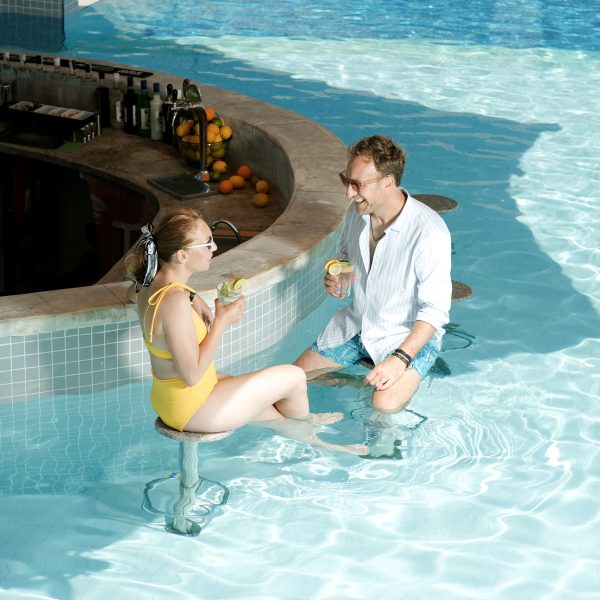 Relaxing with a cocktail in your hand and up to your waist in the water is great, and this is just an understatement. This is why the Pool Bar is the favourite place of thousands of guests and one of the many reasons why the fame of Aquapark Nessebar reaches from Sunny Beach all the way to London.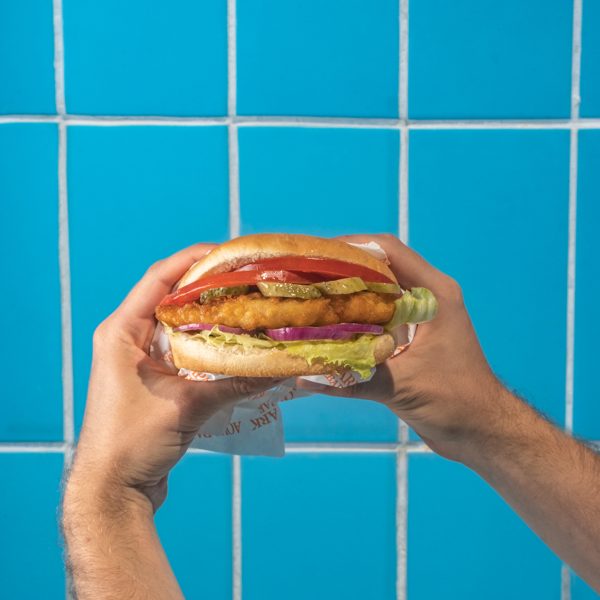 We know that water, emotions and conquering the heights of our 6 towers can make you ravenous 🙂 This is why we have taken care to provide you with an extensive selection of delicious dishes for every diet and every taste.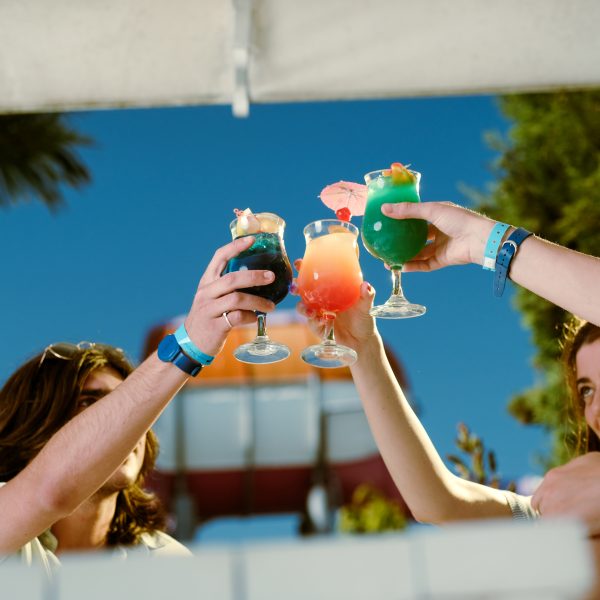 Located at the spa pool, in the quietest and most tranquil spot of Aquapark Nessebar, it is the perfect choice whenever you want to be far away from noise and turbulent emotions and immerse yourself into Mediterranean timelessness.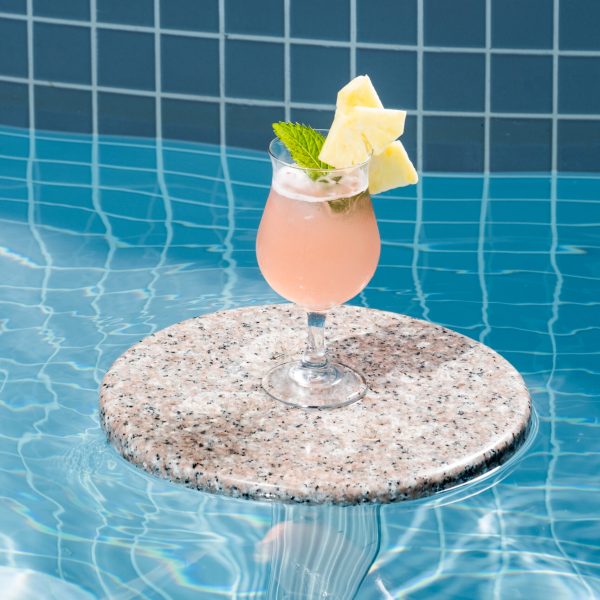 We dedicate a great portion of our energy, love and care to natural vegetation, which makes Aquapark Nessebar a very special place. You find islets of it everywhere in the park but the two most strategic places, from where you can fully take it in, are our two cocktail bars.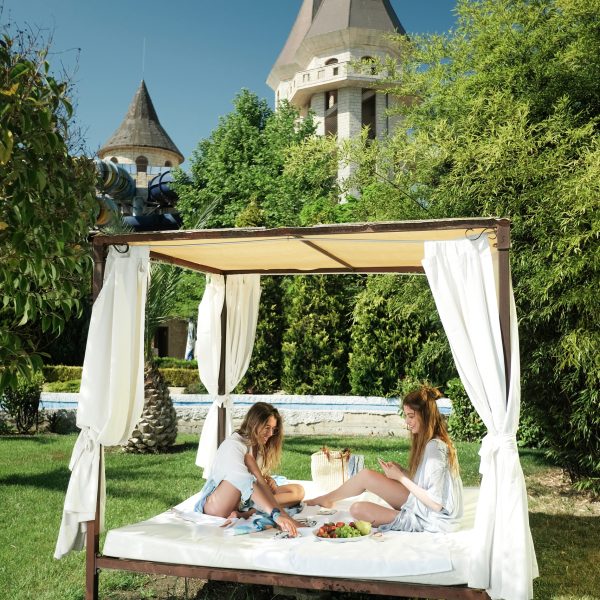 Gazebo and a special menu
Renting a gazebo is a wonderful way to retreat amidst the storm of adrenalin, emotions, shapes, colours and people having fun called Aquapark Nessebar. Our beautiful Mediterranean-style gazebos are situated around the Spa Pool and each of them is with a maximum capacity of 8 people.
At the heart of Aquapark Nessebar, at the Butterfly Pool, there is the stage – a real pirate ship. Here you can enjoy our show programs, while sipping refreshments at the Pool Bar. In addition we offer many possibilities to turn your special occasion into a truly unforgettable event!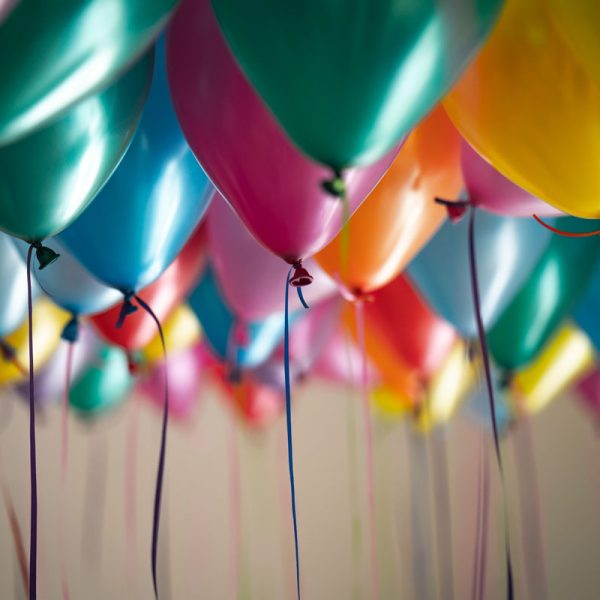 Children's birthday parties
You wish to give your child a birthday to remember with happy excitement throughout their life? Bring your child to the largest Aquapark in Bulgaria!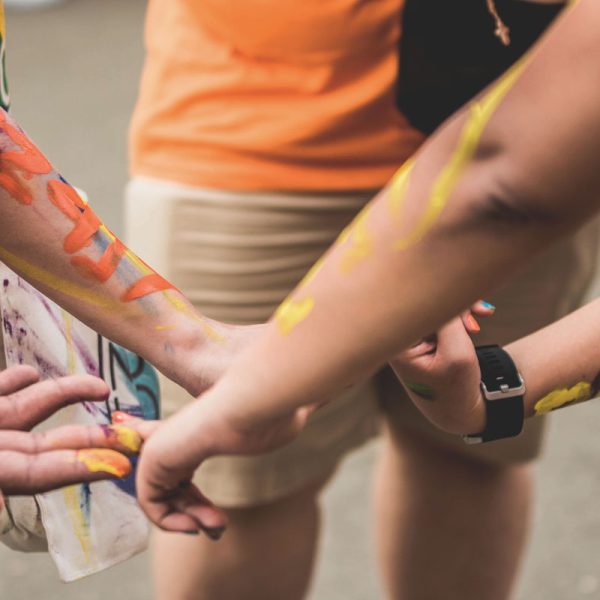 Team building or a corporate event
Nothing can unite a team like the shared experience in the water park with the most attractions in Europe. Reach the top of summer and feel as one.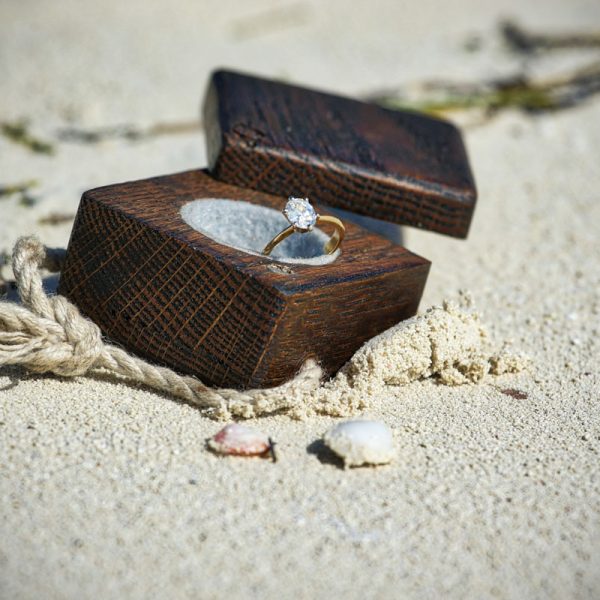 If you have decided to pop The Question to your soul mate, then you are most certainly looking for the most impressive, most exciting and most unforgettable way to do it. Well, you need not search any further!