Working hours | Season 2023
12.05 до 24.05 | 10:00 – 13:00 & 13:30 – 16:00**
25.05 до 30.06 | 10:00 – 18:00
01.07 до 20.08 | 10:00 – 18:30
21.08 до 14.09 | 10:00 – 18:00
15.09 до 27.09 | 10:00 – 16:00 & 13:30 – 16:00**
Opening and closing dates of the Aqua Park are always subject of changes as per the weather conditions.
All facilities stop working 30 minutes before the closing time.

** For the noted periods the aqua park will be open only for guests of Aqua Paradise Resort and limited number of attractions will be at disposal. More detailed information is listed below:

For the periods 12.05 – 24.05 & 15.09 – 27.09 incl. the below slides and attractions will be operational in the aqua park in a rotation way (some of them will be working during the morning and the rest during the afternoon):
1. Dragero
2. Looping Rocket 1
3. Looping Rocket 2
19. King Cobra
23. Space Shuttle
20. Tsunami
12. Storm's Eye
13. Tornado
14. Whirlpool
15. Waterfall 1
16. Waterfall 2
28. Multislide 3 Tracks
11. Lightning
25. Rafting Slide
21. Black Hole
24. Zebra Black Hole
31. Wave Pool
In addition to the above, the attraction TREASURE ISLAND (kids area) will be operation throughoutthe working time without stop.
Please check all the attractions and their location in the map section.
Information and Lost & Found Property:
office@aquaparknessebar.bg
(+359) 88 520 8055
(10:00 am to 06:00 pm)
Marketing and Advertising Department:
sales@aquaparknessebar.bg
(+359) 88 680 8039
(10:00 am to 06:00 pm)
Address:
Aquapark Nessebar, Village of Ravda, Nessebar Municipality, Burgas Region, Post code: 8238, PO box 26
Find us easily
By car
We have a free-of-charge parking lot with 120 parking spaces and the access to the Aquapark is fast and easy, no matter where you are staying. Here are the distances from the Aquapark to the major resorts on the Black Sea coast:
Nessebar: 3.2 km | Sunny Beach: 2.5 km | Ravda: 2.2 km | Sveti Vlas: 8.7 km | Elenite: 15.9 km | Pomorie: 18 km
By shuttle
We provide free-of-charge, convenient and regular shuttle transport from all major resorts to the Aquapark and back. Only the transport from and to Pomorie is charged in the amount of 10 BGN per person in both directions. The stops of our shuttles coincide with the stops of the regular public transport and are designated by special plates. Here is a map and timetable of our shuttles: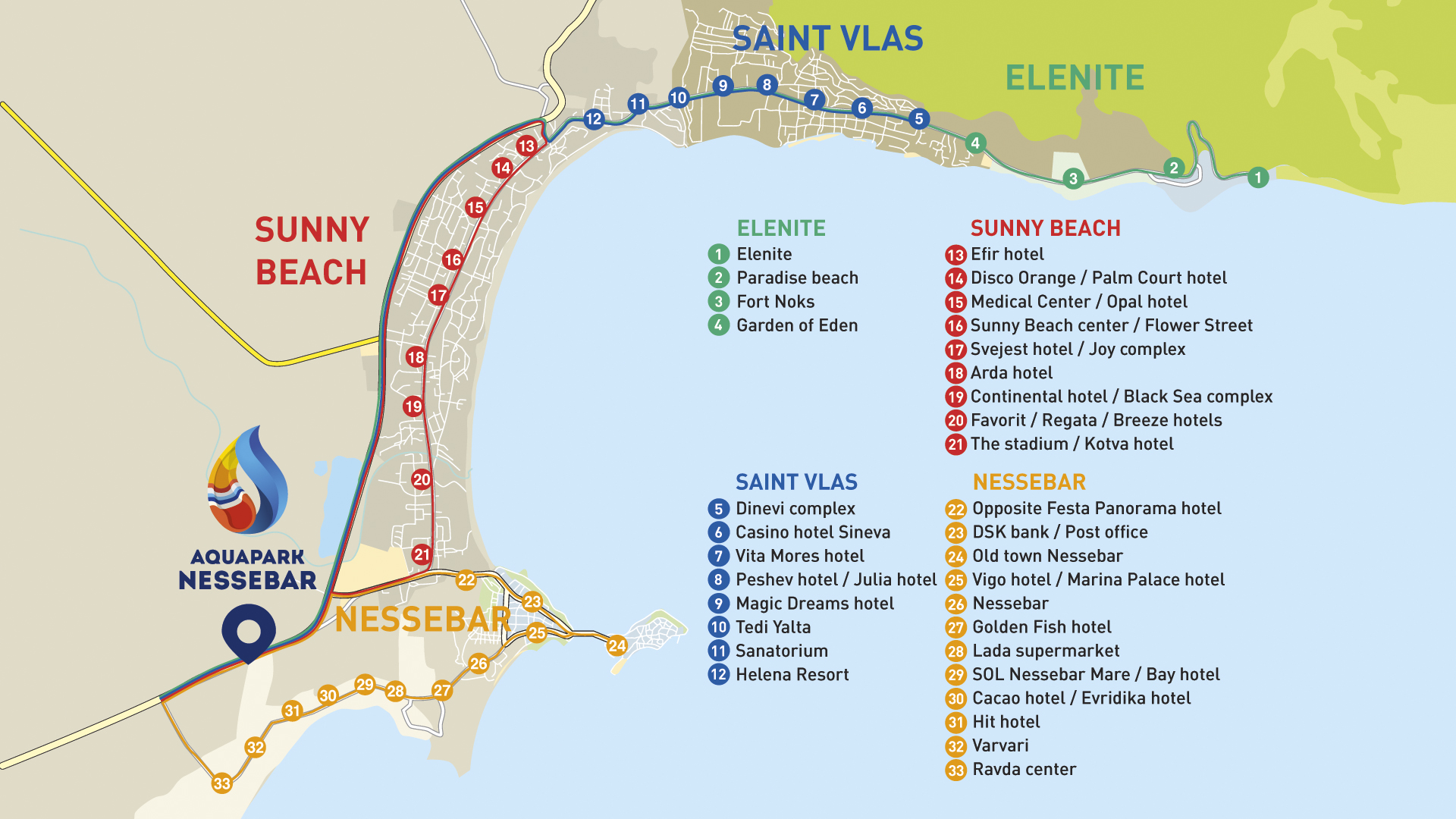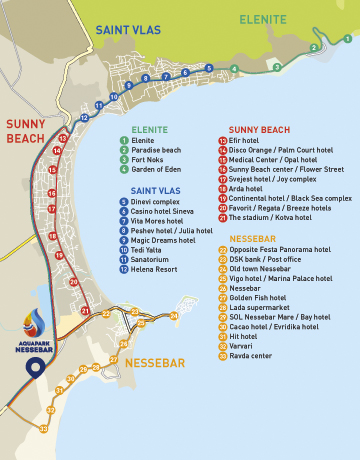 Sunny Beach
Stops No: 13 to 21 – every 30 min.
To the park: 09:45 – 15:00
From the park: 15:00 – 18:00
Nessebar and Ravda
Stops No: 22 to 33 – every 30 min.
To the park: 09:45 – 12:15; 13:15 – 14:45
From the park: 15:00 – 18:00
Elenite
Stops No: 1 to 4
To the park: 09:45
From the park: 18:00
Sveti Vlas
Stops No: 5 to 12 – every 30 min.
To the park: 09:45 – 15:00
From the park: 15:00 – 18:00
Pomorie
01.07.2022 – 28.08.2022
Stops No: 1 to 6
To the park: 10:00
From the park: 18:00
Stops
1. Sunset Resort | 2. Festa Pomorie Resort | 3. Paradise Hotel | 4. Mantz 2 Hotel | 5. Pomorie Municipality | 6. Ivan Vazov School