Meters of total
slide length
Come with children, with friends, alone, or with your partner and meet the challenges of Aquapark Nessebar on the way to ultimate pleasure! Here you will enjoy the greatest diversity of water slides, pools, rivers, and springboards in Europe, and you are guaranteed to find a million reasons to fly, fall, dive, submerge, resurface and again embark on the amazing adventure called Aquapark Nessebar!
The magnificent King Cobra, the Space Shuttle (the longest slide in Europe), the one-of-a-kind Dragero Multislide, the only Surf Simulator in the country and so many attractions that you will discover that one day is not enough.
For your safety parts of our attractions have restrictions with regard to age, height and weight.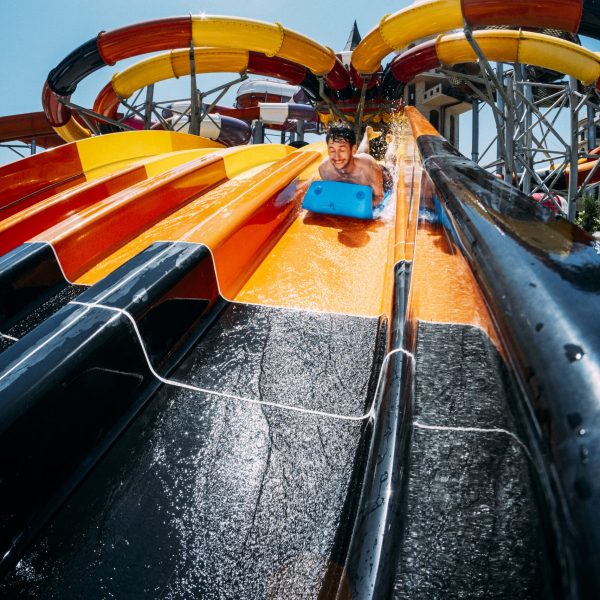 At this super speed racing track the victory comes before the start. Because if you dare to go head first, you have conquered every fear. You start at a frantic speed outdoors, you shoot through a tunnel and reach… beyond anything words can describe.
This extreme slide is one of the greatest challenges of Aquapark Nessebar. It will amaze you with a series of high-speed slides and after them you will have to wait for your feet to stop trembling and for your heart rate to normalize … before you ask for more!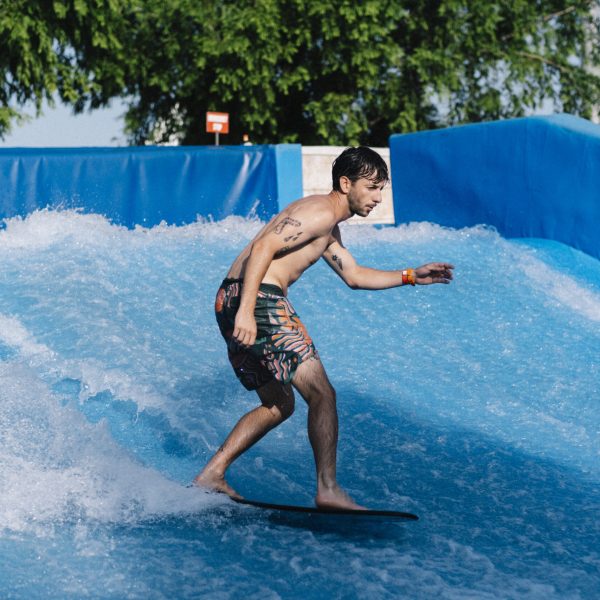 Let the others drift on with the current! Here, in the only surf simulator in Bulgaria, you shall proudly stand, riding the wave of pure pleasure. It does not matter whether you are experienced surfers or beginner enthusiasts! The only thing that matters is courage. And you also have to be taller than 1.30 😉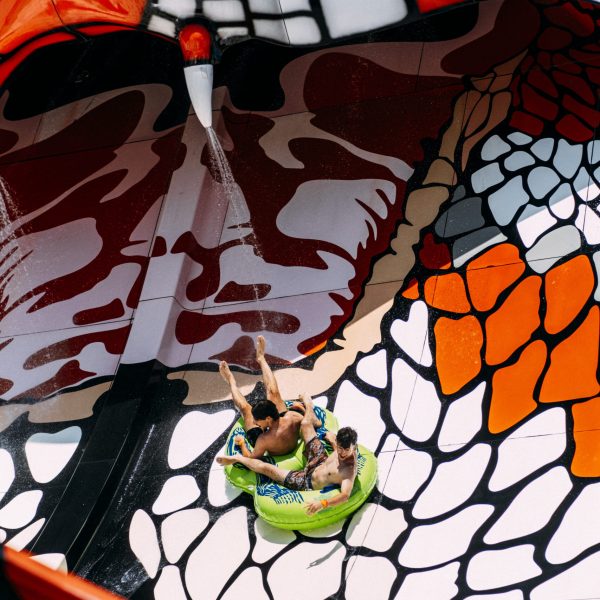 Amazing! Revolutionary! Magnificent! These are but a portion of the definitions that you will hear about His Majesty King Cobra but in reality there are no words that can truly describe him. Suffice it to say that he will give you the ride of your life. And you will adore him.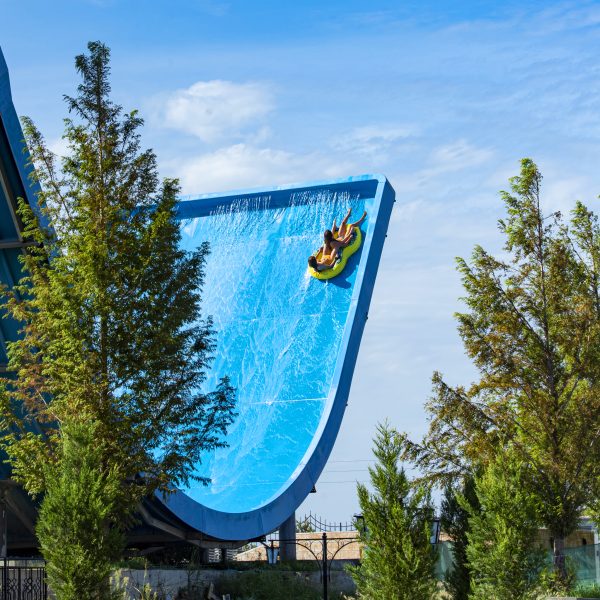 Larger than life and mighty as a force of nature, this slide will take you down to the abyss of pure adrenaline. It will leave you breathless and then shoot you upwards: above all that is familiar, above routine, above anything that you have ever experienced. And straight to the top of summer.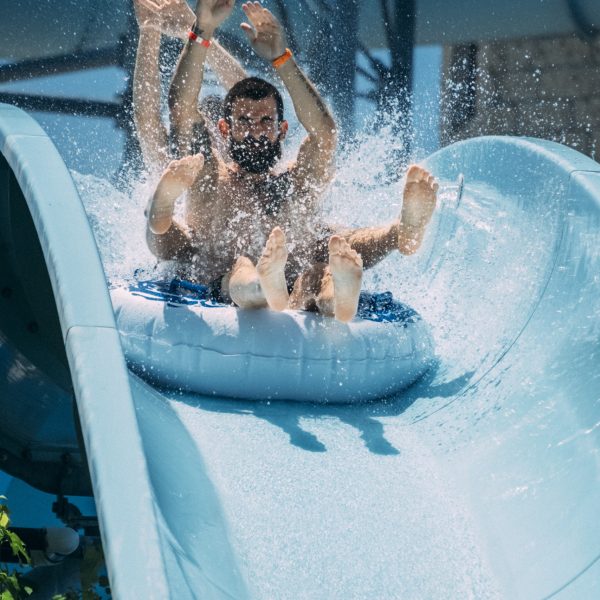 Descend rapidly along the curves of this amazing water slalom and hold tight because 146 metres of abrupt ascents and descents await you; they will make your pulse race and your heart – leap along with your water slide tube 😉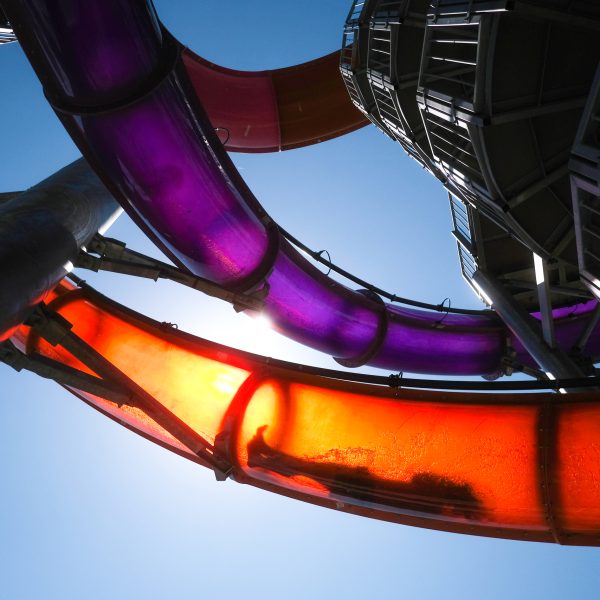 There are two of them. They are unique for Bulgaria. They are stunning. At the beginning you only hear your heartbeat in the closed cabin. 3, 2, 1 … the hatchet opens abruptly and you start dropping down a tunnel of light with crazy curves at frantic speed, and at the end all you can say is: WOW!!!!!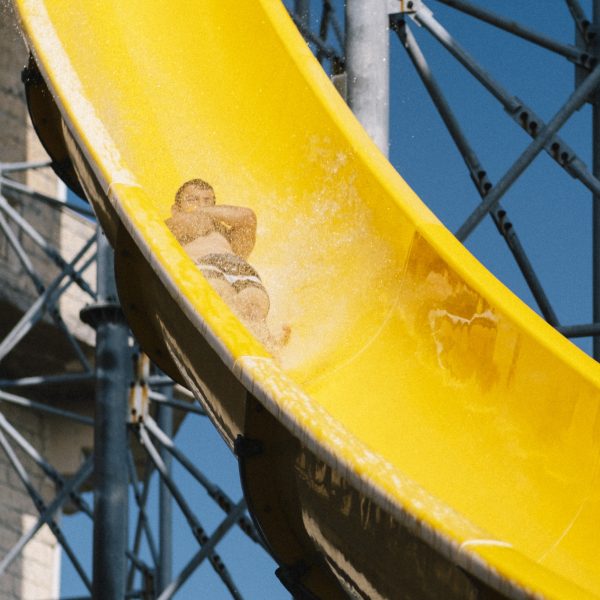 Are you ready for a drop at a speed that turns wind whisper into a roar and makes your heart pound? Feel free as never before in this wild flight of spirit beyond the limitations of your body and up to the limits of the possible!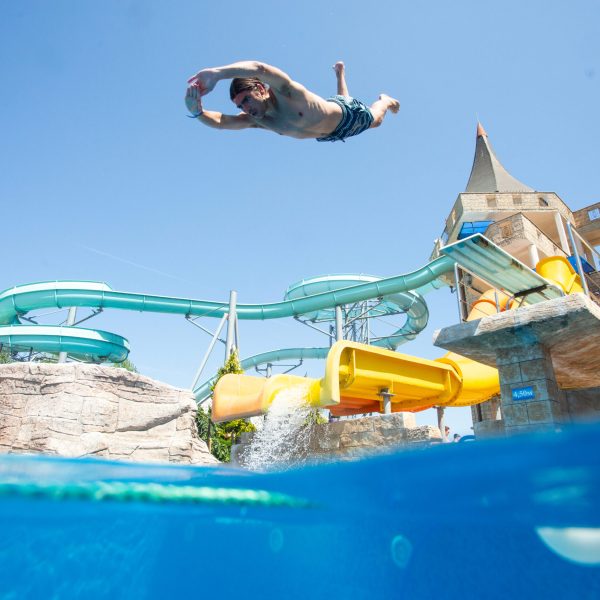 For all those who want to feel free from the restrictions of the laws of physics, at the heart of Aquapark Nessebar two springboards stand, one at 2.10 metres and another – at 3.60 meters. Hold your breath and get ready to experience the flight of the bird and the magnificent jump of the dolphin in the weightlessness of the 4.5-meters deep jumping pool!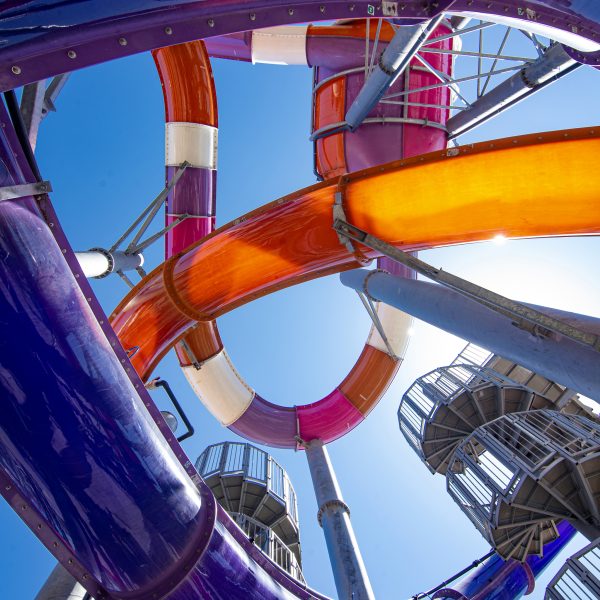 Embark on this lightning-speed ride amidst galactic darkness. Slide along the curves of spiral-shaped galaxies. Fly at the speed of light down the longest slide in Europe: 250 metres! Indulge in this incredible experience, shining like a supernova and stunning as the universe.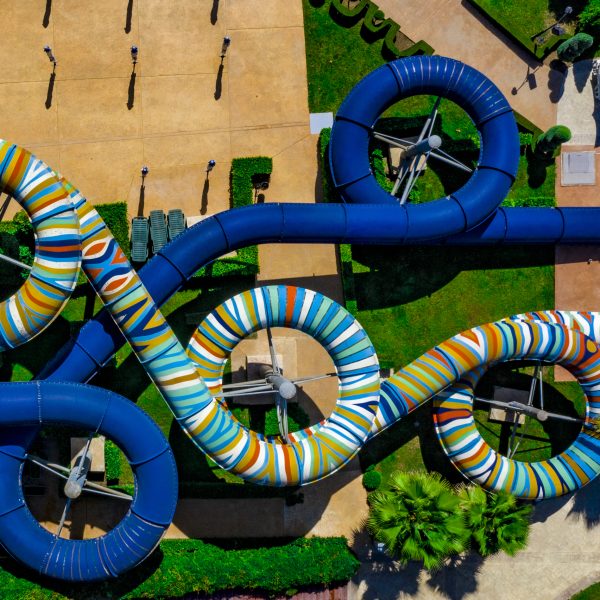 Leave your earthly senses at the threshold of this tunnel. The darkness inside hides surprises, the play of lights tells stories about the birth and death of stars, and the experience is space-like. Take a tour through time and space and arrive… different at the other side!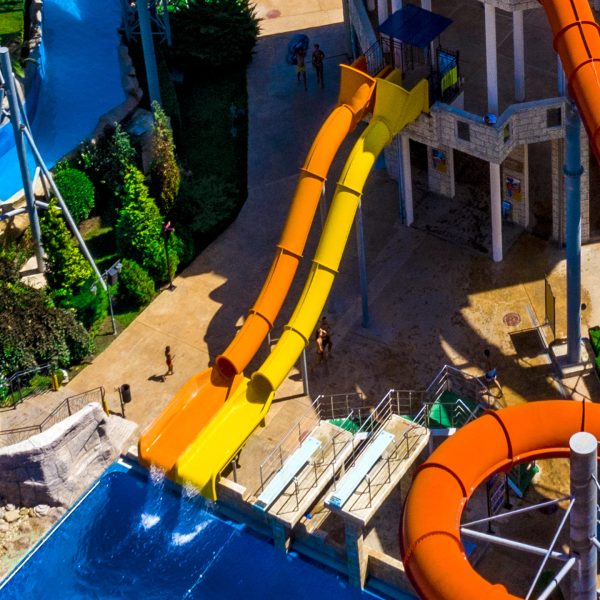 The two Air Abysses have been designed to play with your senses in the most exciting way imaginable. The descent through the tunnels ends with a surprising leap and water landing in the deep pool, which, we are certain, you will want to repeat!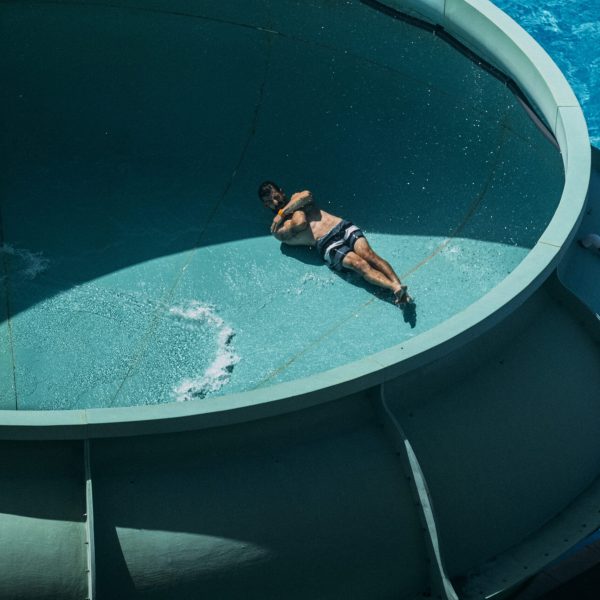 You dash along the tunnel of storm bravely and blindly. You are accelerating extremely fast… and suddenly you find yourself out in the open. The time changes its run… and after a moment of imaginary peace and quiet the storms envelops you again submerging you in a whirlpool of emotions!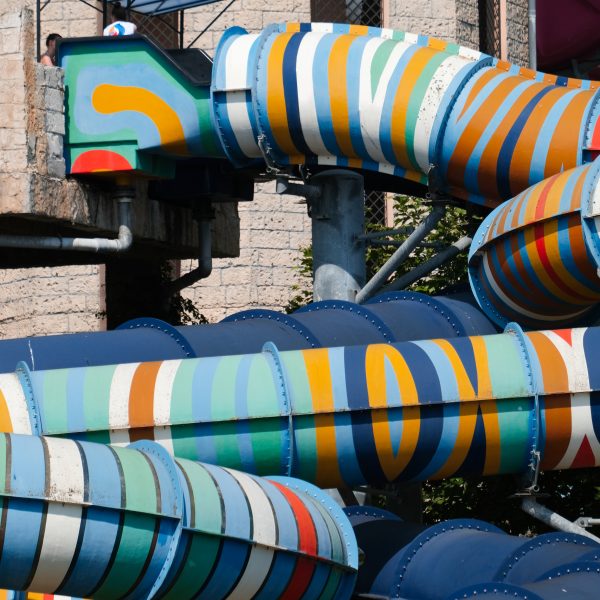 The beautiful facade of the Zebra hides an equally beautiful an experience, full of contrasts between light and darkness. Hold on to your water slide tube tightly because breathtaking curves are awaiting and each of them takes you deeper and deeper into complete satisfaction!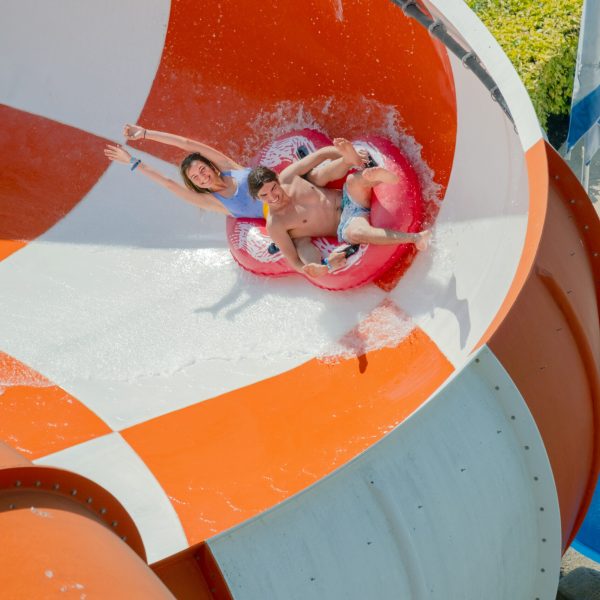 Are you ready to embark on an unforgettable quest into the heart of the crater? It all starts with a lightning-speed tunnel and continues into a large open funnel, swirling you like a force of nature! Here the emotions are tense and satisfaction is complete!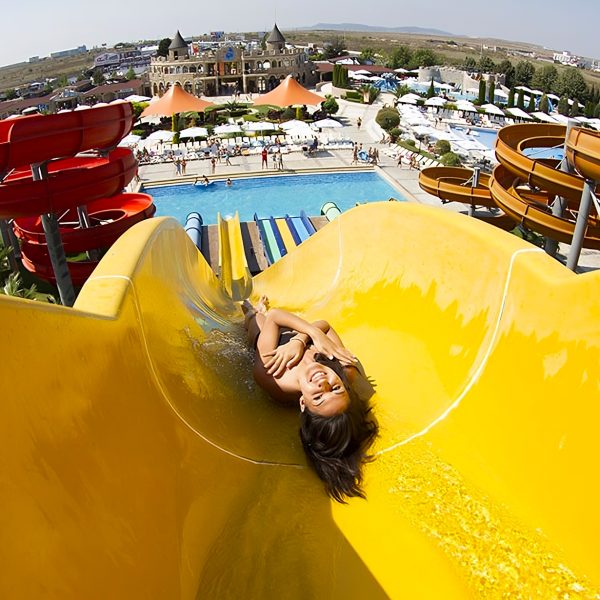 Sliding down for more than ten meters is an electrifying experience – and this is an understatement – ending with a complete adrenaline rush. Experience the Lightning and it will surely charge you with both the courage and the desire to meet even greater challenges.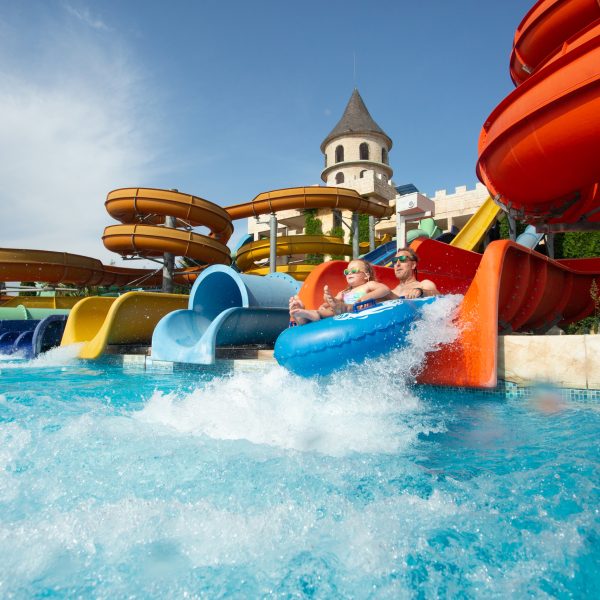 It will carry you on the waves of pure joy. Something new, exciting and surprising is awaiting behind each and every curve! Share the joy with you children, friends and beloved people thus making the experience doubly beautiful!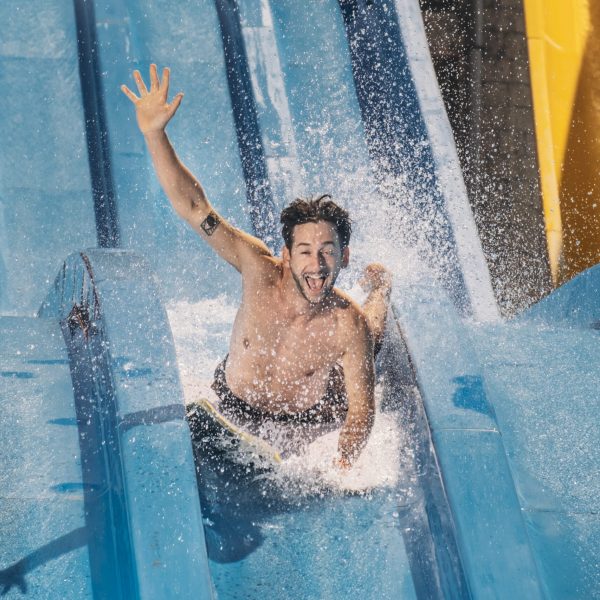 3… 2… 1… START! Who will be first in the most exciting race? Actually this does not matter because the emotion of the speedy descent is such a powerful engine that both winners and losers are always ready to try again;) And again. And again!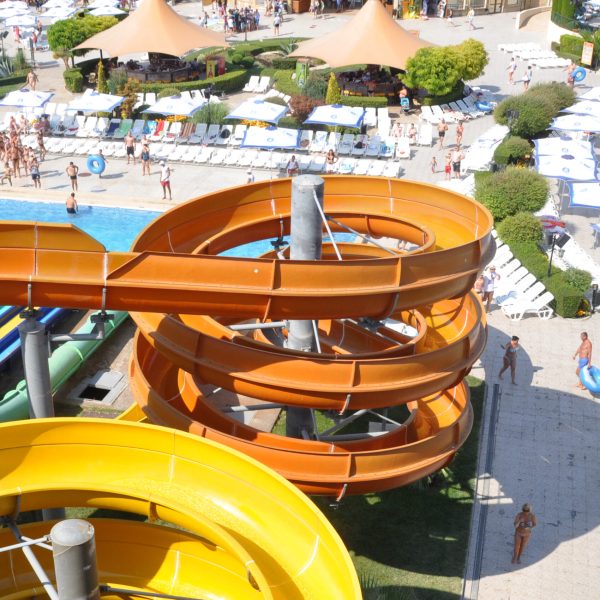 Pleasure is at its highest along the curves of this slide and they gradually make you pick up speed while everything around you disappears and only the sublime feeling of acceleration beyond the limits of the possible remains!
Let the force of water carry you through the tunnels of these two slides, where you see little but experience so much! After diving into the waterfall you will find that bravery is a opiate and in Aquapark Nessebar there are so many challenges through which you can put yours to the test time and again!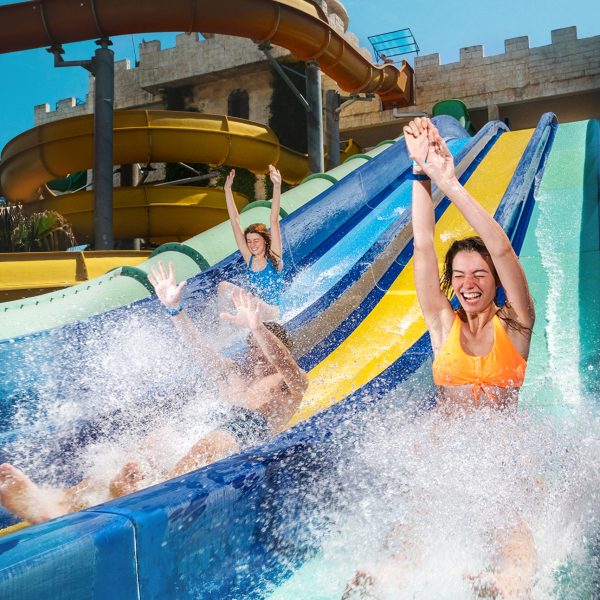 The shortest of the 3 race tracks in Aquapark Nessebar is a wonderful start for families and friends who are yet to muster their courage for more intense experiences or who just prefer something a little less extreme. But do not think it will be too easy! The slope is big enough to make your heart leap 😉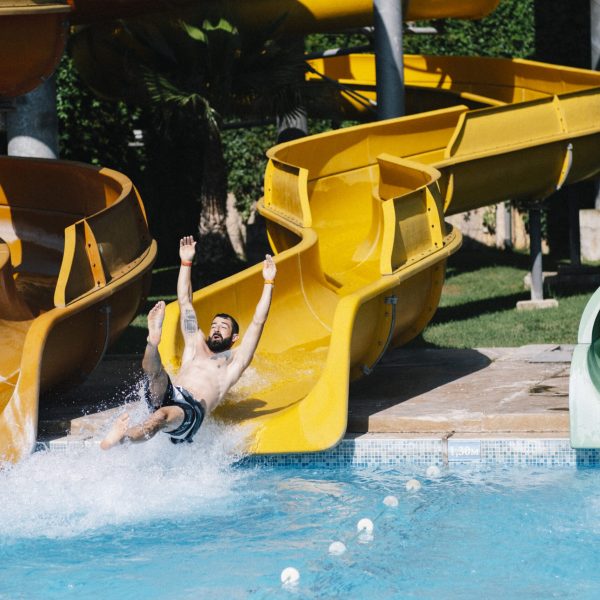 Are you ready for a dose of a head-spinning emotion? Jump bravely into the whirlpool and while your body is sliding along its curves your soul will be flying! Yield to the force, delve into the emotion and resurface, totally ready for new adventures!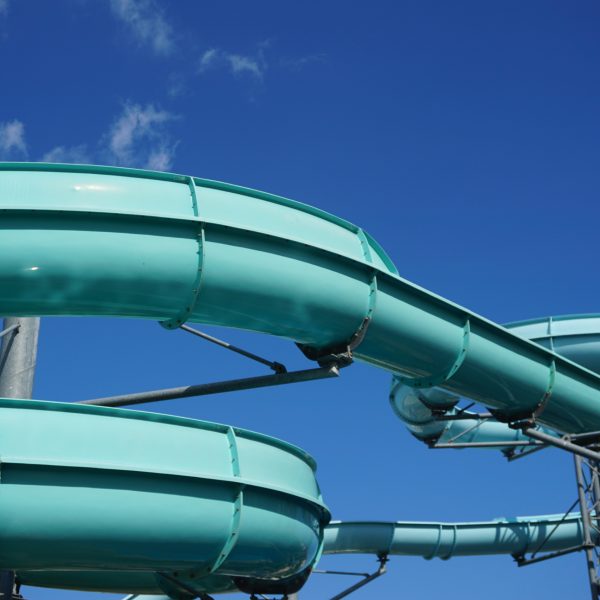 This spiral of emotions is especially designed for the lovers of high-speed of all ages. With 9 metres per second it will take you to the foundation of the amazing experience called Aquapark Nessebar.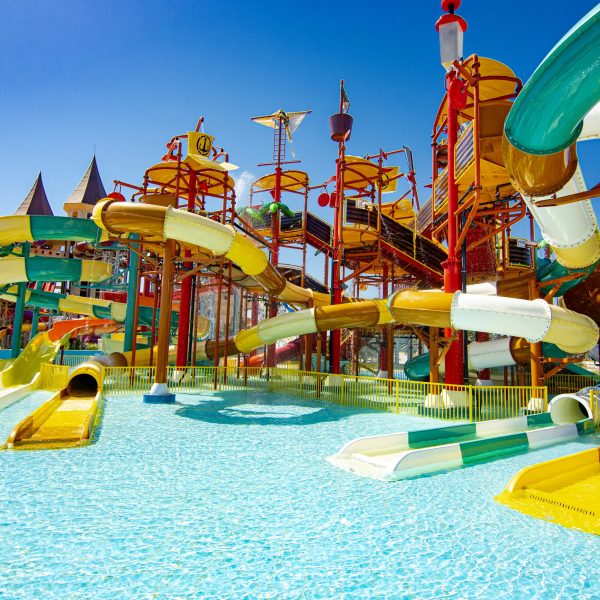 It is not necessary to be tall to have courage and it is absolutely not fair that the funniest things are prohibited for children, isn't that right? This is why on this unique island, which is part of our newest attractions, brave kids will find replicas of our coolest slides for adults designed especially for children.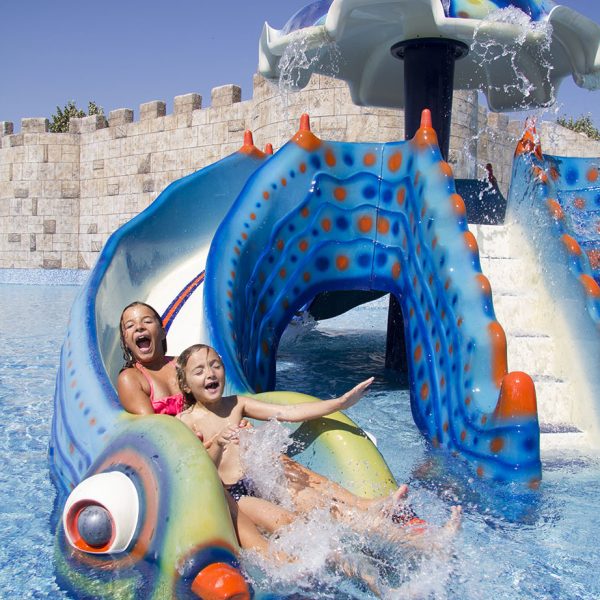 In the first of our two children's pools designed and constructed in compliance with the most stringent safety standard, our youngest guests are on their own ground! Here there is everything that children adore: Rainbow Multislide, where they can slide with friends or mom and dad, two brightly-coloured water slides, Water Mushroom and, of course, cute animal-shaped slides!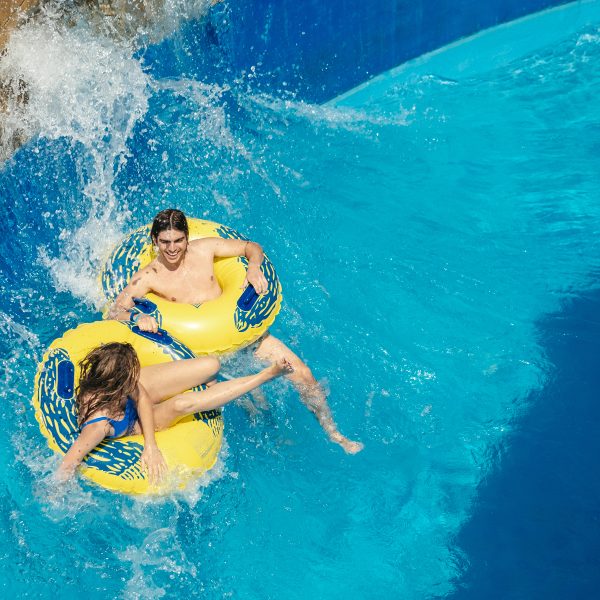 Are you ready for an adrenaline rush? It is wild, unrestrained and mighty! It is a force of nature! Amongst splashes, foam and rumble, the Rafting River shall throw you up and down with the power of its two-meter waves and only the most prepared shall withstand!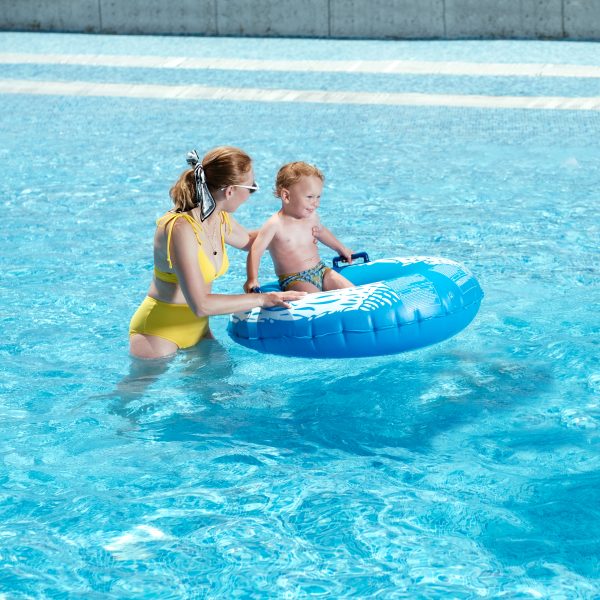 At Aquapark Nessebar we know how to turn a pool into a real sea of joy! The experience is just like in the sea, but without all the underwater currents, underwater pits or dangerous winds.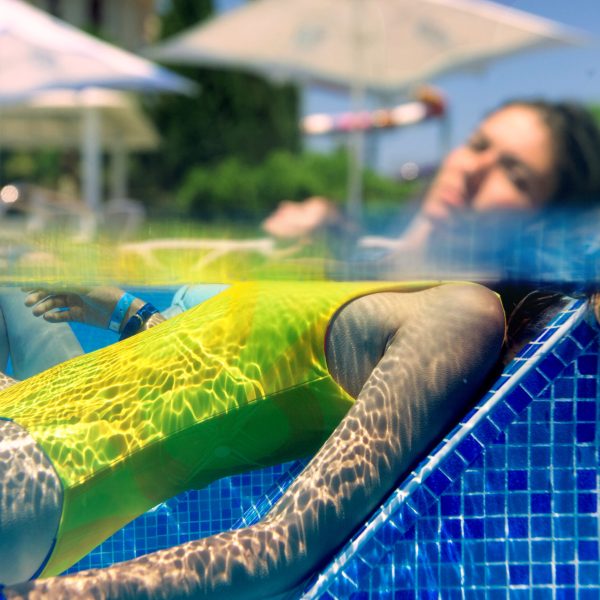 Aquapark Nessebar is the largest-scale water experience in Bulgaria. Here you will find water attractions for every mood and taste. For all those who need to relax and take care of themselves, the Spa Pool offers two Jacuzzi, water massage showers and facilities for underwater massage.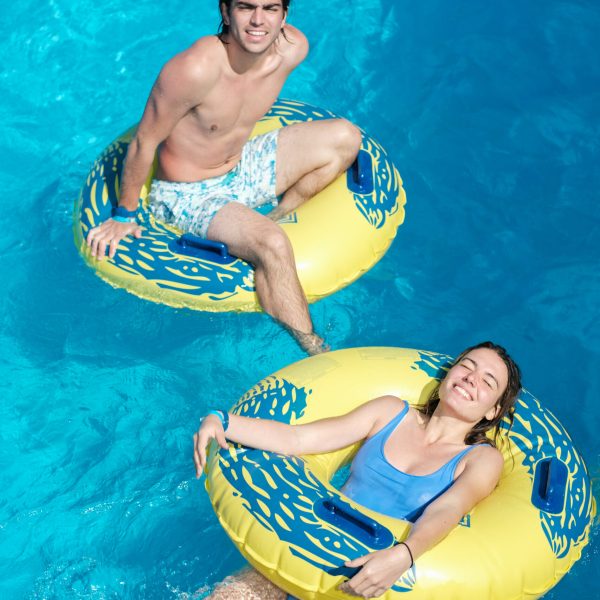 When your legs start shaking from ascending the heights of Aquapark Nessebar and your heart is overfilled with emotion, hang on for a second! Relax in the gentle embrace of the Idle River and let its smooth rhythm take away exhaustion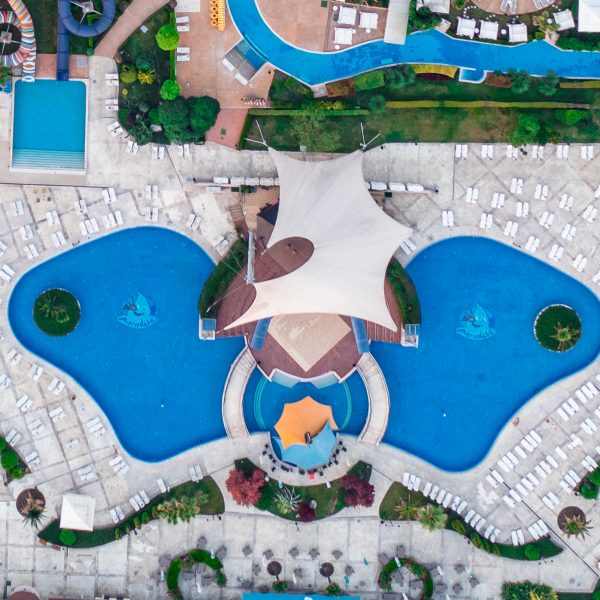 The pool in the shape of an enormous butterfly is the largest and most beautiful one in Aquapark Nessebar. Here you can swim by the rhythm of music coming from the stage and Pool Bar located at the heart of the butterfly, you can have a refreshment while the water is gently cooling you.
Rental Gazebo & Special Menu
Renting a gazebo is a wonderful way to retreat amidst the storm of adrenalin, emotions, shapes, colours and people having fun called Aquapark Nessebar. Our beautiful Mediterranean-style gazebos are situated around the Spa Pool and each of them is with a maximum capacity of 8 people.
ATTENTION: The prices do not include the entry fee for Aquapark Nessebar, which is payable separately! Food and beverages not included in the menu are paid separately. Additional services such as massage, peeling fish procedures, safe/locker, as well as the merchandise from the souvenir shop are paid separately!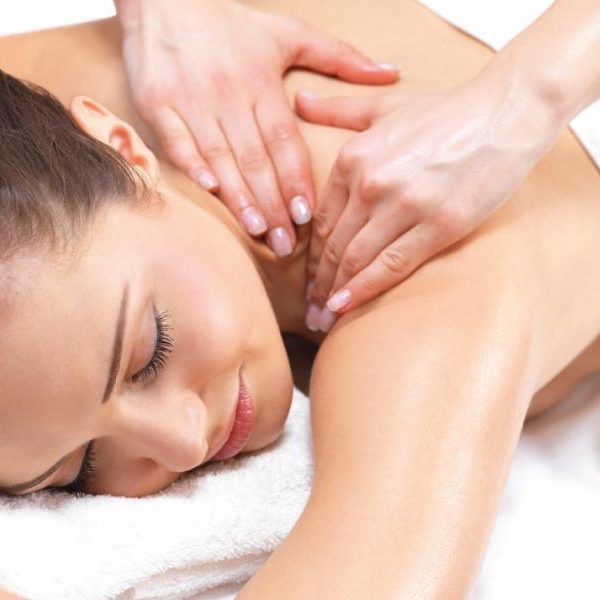 A day in the water park with the most attractions in Europe can be very tiring, especially if you have decided to try out everything. Relax in the experienced hands of our professional masseurs and masseuses and you will feel tension going away and your body filling with new strength!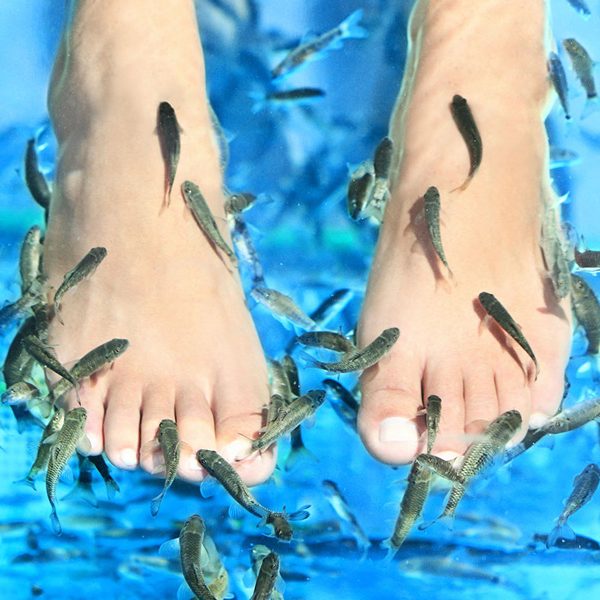 The natural peeling with Garra Rufa fish is known all over the world not only because the little swimmers are exceptionally hard-working and efficient in clearing away the rough skin but also because the tender tickling sensation is immensely pleasant. Try it out and you will see for yourself